Agility
What Is Agility?
Agility first appeared in England in 1978, as a half time show at Crufts. It was based on horse jumping competitions and intended to show off the dogs' natural speed and agility
Agility is a now a hugely popular and fun competitive sport that tests a person's skills in training and handling of dogs over a timed obstacle course. Competitor's race against the clock as they direct their dogs to jump hurdles, scale ramps, burst through tunnels, traverse a see-saw and weave through a line of poles in an obstacle course configuration designed to challenge a handler's competitive and training skills.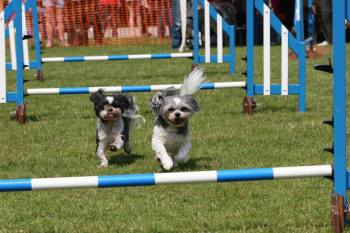 Who Can Take Part?
​Dogs of any size, breed or age can take part in agility. We have trained hundreds of dogs including tiny Chihuahuas to giant Great Danes and everything in between! We accept dogs over the age of 8 months for training (dependant on breed). They must have a good level of obedience, a good recall and be in good physical health. We also have micro heights on our jumps and a special mini dog walk for all our little dogs.
"I think if every dog owner engaged in agility training with his or her dog, the dog world would be a better place. Agility is that good, that fun, and that important." – Sue Sternberg, dog trainer, shelter founder, author
Agility Training
If you're looking for a way to:
Solve behaviour problems
Exercise your dog in a way that will tire his body and mind
Improve off-lead reliability
Become better at all aspects of training and communicating with your dog
Build a strong bond between you and your dog
Have lots of fun
Then agility might be right for you!
Agility training is all about building a common language between dog and owner. It teaches you to use body language to communicate clearly and effectively.
Our classes are run by people who are passionate about their animals, who like to train and have fun using only positive methods. Graeme and team of trainers are happy to help with all level of handler and dog experience.
Class requirements for you and your dog:
Flat collar or fleece harness (Important: for competition agility your dog must wear a flat collar with no tags, harnesses are not allowed)
Long flat lead. Not an extender or chain lead
Treats (Chicken, sausage and cheese work well)
Please bring with you a toy that will motivated your dog such as balls on ropes or tuggers
Poo bags
Water for the dogs is provided at class.
Appropriate clothing and footwear (No high heels and flip-flops).
Water or a drink for yourself especially in warm weather
For your first class please arrive 10 minutes early.
Please be aware that you may sometimes be asked to help setup and put away the equipment.
Harsh handling and choke/check chains are not permitted in any of our classes
Fees: £6 a lesson
When/Where: Agility is held on Sunday mornings (March – December) at our sports field in Leasowe. For Directions to field please click HERE
Agility classes are a rolling course with open enrollment meaning you can start any week as long as there is space.
If you would like to register for Agility please fill out the form below and we will be in touch to arrange your first session